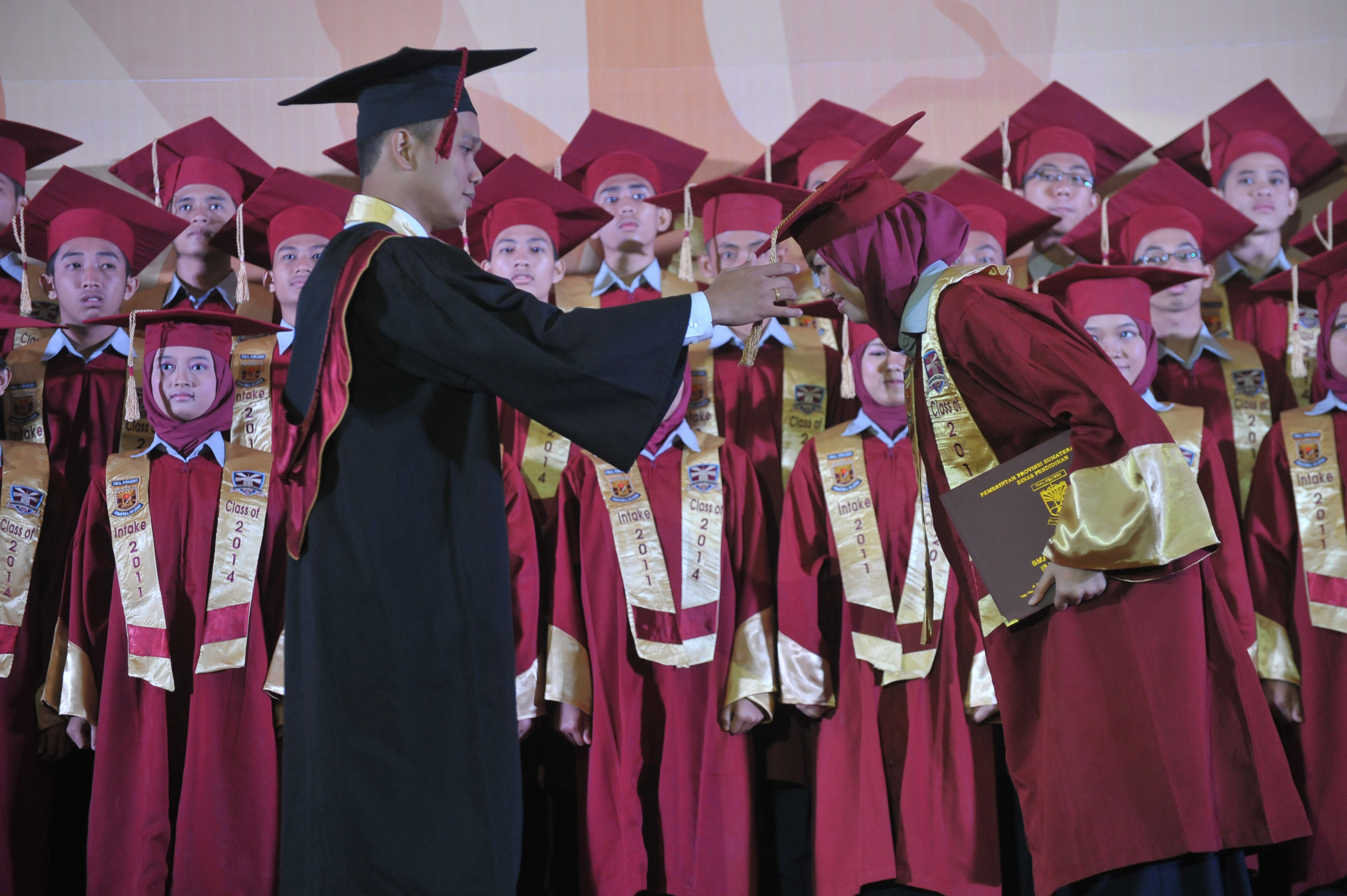 Graduation Class of 2015
Drs. Widodo, M.Pd. : ," SMAN Sumatera Selatan is one of the best high school that supervised and initiated directly under the government of South Sumatera Province. Through education methods that have applied, we hope, SMAN Sumatera Selatan can build qualified generation, honest character , which can give a positive contribution in build South Sumatera Province. 
(3/6) 105 students ready to face their future cause they will officially graduated from SMAN Sumatera Selatan. This event started since 8 p.m. till 12 p.m. Began by choir performance, continued by dance, and followed by another performances. Our beloved Principal, Pak Reynold B. Hutabarat opened this event by giving the short speech. MC was calling their name each for graduating session continued by standing in front of the audience. For three years past, many competitions that have been achieved by them. From the province level, national even international, which are : Gold Medal from International Science Project Olympiad (ISPO) in Turkey and Jakarta, Silver Medal from International Environment & Sustainability Project Olympiad  (INESPO) in Holland, and Silver Medal from International Young Inventors Project Olympiad (IYIPO) in Georgia.
Also another achievements coming from 4th intake, which is, 29 students passing their collages through SBMPTN, 16 students in ITB, 9 students in UNSRI, 2 students in UNS, 1 student in IPB, and so on.
Kgs. M. Reza as the representative from their intake gave the speech that we call as valedictorian, moreover Agustina Sinta, Agung Pratama, and Raras Diva were becoming desiderata. Those students chosen by school because they give their best along three years in this school. This event closed by performance by Class of 2015, singing Andaikan Aku Punya Sayap, Indonesia Jaya, and Spread Our Wings
Lastly, congratulation for class of 2015, you guys are rock!  You done with a great work , here your  beautiful journey along three years will never be covered by others.  See you on top, brighter future is waiting. Learn Today, Lead Tomorrow! (ru/am)